Upper Primary Information Session 7.45am Wednesday 23 June, Quintilian Music Hall.
Breakfast Seminar: How do Quintilian students transition to High School?
7.45am light breakfast for 8am presentation. Coffee Cart available from 7am.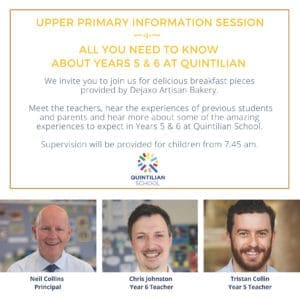 Upper Primary Information Breakfast
A question often asked of the school by parents is "How does Quintilian School set up students for high school and how well do students transition?"
Come and listen to ex-students of Quintilian to talk about their experience in transitioning to high school.
In addition, we will discuss what the school provides in the upper years that helps to build confident, resilient children.
Supervision will be provided in the playground from 7.30am for younger children.