Dear Parents,
Term 4 is proving to be another fun-packed adventure for the Quinny students. The Year 4 assembly captured the true essence of Quintilian. During assemblies we have also seen performances from Mel's creative Year 1s, Christie's eco-friendly Year 3s and Galina's outstandingly talented musicians.
Our ever-popular camps program continues this term, with the Year 1s and Year 5s enjoying their respective nights away last week, and Years 2 and 3 enjoying this week's adventures. Camp experiences are often the most fondly held memories of Quintilian students and staff, and so we extend our sincere thanks to all our hard-working parent volunteers without whom camps simply wouldn't happen.
Reduce, Recycle and Reuse
The new Student Board this term decided to prioritise sustainability, which means keeping a close eye on literally everything from the school's carbon footprint to our vegetable garden. The Board members have already spent a very productive hour or two pulling weeds and sweeping up leaves, and generally tidying our front garden along Brockway Road. Great work everyone!
Likewise, Lisa and The Sustainability Club arranged a spooky Halloween themed pop up costume event in the STEM room. The costumes donated ranged from scary zombies to sci-fi stormtroopers – it was quite a mix. Thank you to all our Quinny families for your generosity.
Halloween Disco
The annual Halloween Disco brought the whole school community together, some were quite unrecognisable in their weird and wonderful creative costumes. Thanks to Chris's retro DJ set, that provided the soundtrack for the night, the spirits were high and plenty of fun was had by all. We would like to thank all staff and parents who helped out with the themed food, drinks, decorations and costumes.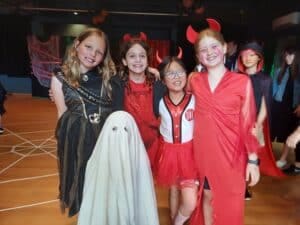 Floorball
This term, REVO Sport is trialling the use of our undercover sports facility to host a number of games. The intention being to potentially bring further floorball opportunities to the Quintilian community. Floorball is arguably one of the fastest growing sports in Australia, and many of our students and families enjoy playing in their spare time.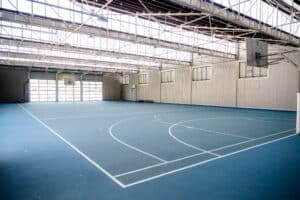 Soccer Goals
If you are in need of any flat packed furniture assemblers, then look no further than this inspiring group of Quintilian students who offered their services before school to help construct the flashy new soccer goals! The goals were proudly purchased following successful, targeted fundraising activities planned by Sporty Sarah and our Student Board – Sockable Socks and a fantastic whole school Sponsored Fun Run. The whole project, inspired, designed and executed by our students, has been an incredible achievement and a great team effort by our whole Q community. Thank you to everyone for your support!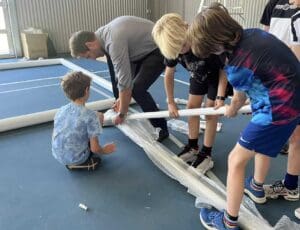 Staffing
Congratulations to Charles Herring on his retirement from Quintilian after 16 years of dedication and commitment as School Bursar. We thoroughly enjoyed working alongside Charles over the years and benefited greatly from his wisdom and his financial knowledge and expertise. We wish Charles a long, happy and very well-deserved retirement.
We also extend our thanks to parent, Caitlan Sim, who stepped in, temporarily, to offer her support and financial knowledge over the last few months. Thank you, Caitlan, your knowledge and time was very much appreciated.
Finally, it is our pleasure to welcome Sam Beare, Finance Officer, to the administration team. Sam joins us from the corporate world and brings a wealth of experience and expertise in both the financial and business fields. Sam has already settled in well and is excited to be joining our fabulous Q family.
Principal Elliott