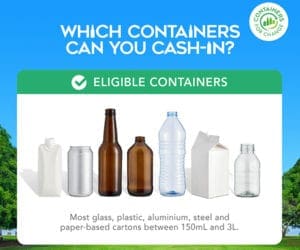 Quintilian School is collecting drink containers as part of the State Government's Containers for Change program, which provides a 10c refund for each container recycled through the initiative.
The Quintilian community is encouraged to collect their drink containers at home and then deposit them in the specially marked bin outside the staffroom OR take your containers to a public refund point and quote the Quintilian Scheme ID – C10325272.
All funds raised will help support programs such as STEM and Sustainability at Quintilian.
Most aluminium, glass, plastic, steel, and liquid paperboard drink containers between 159ml and 3L are eligible for a refund. To find out exactly which ones can be recycled visit the Containers for Change website.
Containers for Change created a way to recycle containers that provides an incentive for Australians, while also positively impacting the environment.  Western Australia Return Recycle Renew (WARRRL) is a not-for-profit organisation created to establish and run the Containers for Change scheme in Western Australia and they focus on "reducing container litter, increasing recycling efforts, and helping communities by encouraging social enterprise and creating jobs."