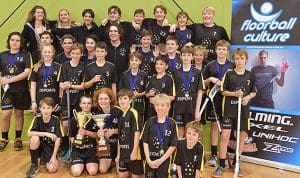 In the school holidays we went to Pakenham, VIC to play in the Junior Australian Floorball Open (JAFO). Our Under 13 won the competition and also the Under 15 from WA brought home a trophy.
The WA teams included many former Quintilian students and 1 Quintilian kid. This included Reid Knox Little, Lars van der Sar, Cody Sangster, Hugh van der Sar, Ronan Lilley, Patrick Rayment, Toby Knox Little, Oscar Collins, Jacob Sangster, Mitchell Anstiss and Aiden Hollingsworth.
Among the coaches were Josh and Andrew Hay.
Hugh van der Sar
Year 5