Year 6 IPSHA Touch Rugby Carnival at John XX111
Year 6 IPSHA Touch Rugby
Carnival at John XXIII College Inc
John XXIII College Inc
Mooro Drive
MT CLAREMONT WA 6010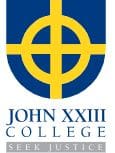 Dear Year 6 Parents,
As you know we are heading to John XXIII on Thursday 8th October to participate in the IPSHA Touch Rugby Carnival, leaving school just after 9am and returning by 2.30pm.
Quintilian will have two teams participating during the day and I am in need of a helper to come along with me and help to manage one of them.
A knowledge of the rules of Touch is not a requirement – there will be trained umpires to direct the children on the day. It is more a case of being with the children during the games and helping to sub them in.
If you are interested and able/willing to help, please let me know as soon as possible.
Many thanks.
Anne
Anne Lavin│Year 6  Teacher│Quintilian School
46 Quintilian Rd, Mt Claremont WA 6010
t: (08)93834274
e: anne.lavin@quintilianschool.wa.edu.au