OPEN MORNINGS
2020 Open Morning dates:
Please make your way to the main school administration on 46 Quintilian Road Mt Claremont.
Our lovely volunteer Year 5 students will show you the Early Learning Centre for tea and coffee and biscuits. Children and babies in prams are welcome.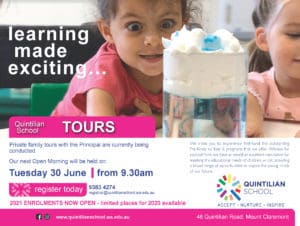 Contact the school prior for confirmation.
Tuesday 30 June 2020. Groups will be allocated timeslots: 9.30am, 11.30am 1.30pm. Please book.
2020 Open Morning TERM 2
Tuesday 1 September 2020 9am for a 9.30am start
Open Evening Tuesday 22 September 2020 – 6pm-7pm
Tuesday 27 October 2020 9am for a 9.30am start
Orientation Mornings for 2021 Thursday 19 November, 8.30am – 10.30am and Pre-Kindy Tuesday 24 November 2019, 9am-10.30am.
E: registrar@quintilianschool.wa.edu.au
T: 9383 4274