OPEN MORNINGS
2020 Open Morning dates:
Please make your way to the main school administration on 46 Quintilian Road Mt Claremont.
Our lovely volunteer Year 5 students will show you the Early Learning Centre for tea, coffee and biscuits. Children and babies in prams are welcome.
Contact the school prior for confirmation.
Wednesday 4 November 2020  PLEASE BOOK 9.30am or 11.30am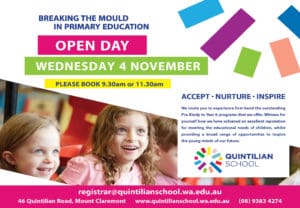 Orientation Mornings for new students for 2021:
Kindergarten to Year 6 – Thursday 19 November 2020, 8.30am – 10.30am 
Pre-Kindergarten – Tuesday 24 November 2020, 9am-10.30am.
E: registrar@quintilianschool.wa.edu.au
T: 9383 4274