WILD HAIR DAY
All day
27th November 2019
WILD HAIR DAY
Wednesday 27 November 2019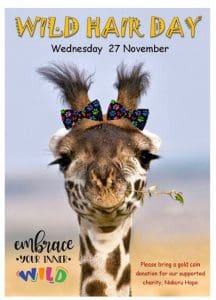 Please feed our gorgeous giraffe and help those in need.
Have you seen our giraffe in front reception?
We're hoping to fill her with silver coins in support of Nakuru Hope, a charity that provides food, education, a home and counseling to those who are destitute, hungry and illiterate in Nakuru, Kenya.
Come with a wild hair style on Wild Hair Day:
Wednesday 27 November.
Nakuru Hope Project
https://www.nakuruhope.org/
Thank you